Dach z blachy na rąbek stojący odnajdzie się zarówno w klasycznym, jak i nowoczesnym budownictwie. Pasuje również do budynków z dużymi przeszkleniami lub geometrycznymi elementami. Po taki materiał sięga się, by dach wyglądał estetycznie, a ponadto był trwały i wytrzymały. 
Krycie dachu blachą na rąbek stojący dawniej i dziś
Metoda krycia dachu blachą "na rąbek stojący" jest znana i szeroko wykorzystywana w budownictwie od dawna. Sprawdza się zarówno na małych jak i na dużych powierzchniach dachów, wykorzystywana jest także jako pokrycie elewacyjne. Dawniej tego rodzaju blacha stosowana była przede wszystkim do dachów skośnych. Obecnie technologia ewoluowała, a sam wygląd pokryć dachowych został poprawiony. Łączenie "na rąbek stojący" umożliwia pokrycie dachu zarówno o minimalnym, jak i bardzo dużym kącie nachylenia. Panele na rąbek stojący mogą być montowane na połaci dachowej o kącie nachylenia od 9°, dlatego można kłaść je również na dachach o niższym kącie nachylenia niż tradycyjne blachodachówki. 
Blacha na rąbek stojący to materiał zaliczany do lekkich pokryć dachowych. Jednak przed położeniem paneli dachowych zaleca się wykonanie pełnego deskowania oraz użycia maty wygłuszającej.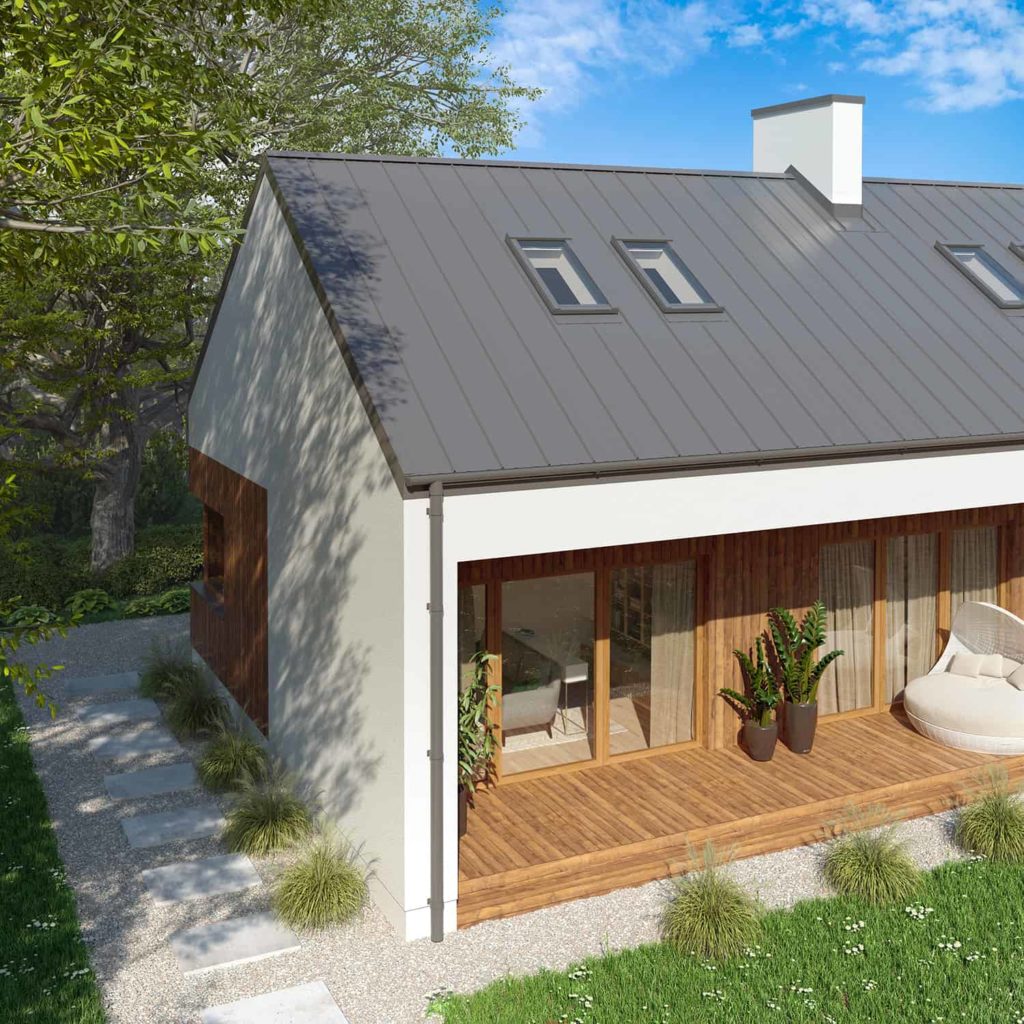 Panele dachowe i rodzaje materiałów wsadowych
Na rynku materiałów budowlanych i wykończeniowych ze stali dostępne są różne rodzaje paneli dachowych i materiałów wsadowych, z których panele dachowe mogą być wykonane. 
Jeśli chodzi o rodzaje materiałów wsadowych, to w kolekcji PRO panel dachowy oferujemy ich 2 rodzaje: 
PURTEXT STRONG 300 – Za sprawą warstwy cynku powłoka cechuje się zwiększoną odpornością na korozję, a poliuretanowa powłoka lakiernicza zapobiega zarysowaniom i uszkodzeniom mechanicznym. Oferujemy na nią najdłuższy czas gwarancji – aż do 50 lat. 
EXELENT – powłoka została wzmocniona domieszką akrylu – ten rodzaj wykończenia nie tylko poprawia odporność na zarysowania i promieniowanie UV, ale również nadaje blask i ekskluzywny wygląd dachom. 
Zalety paneli dachowych na rąbek stojący
Panele dachowe na rąbek stojący – w naszej ofercie są to produkty z linii PRO panel dachowy – posiadają szereg zalet. Do najważniejszych z nich zaliczyć można: 
wytrzymałość i jakość – do produkcji nowoczesnych paneli dachowych używa się wyłącznie przetestowanych surowców. Lata testów i udoskonalania materiałów sprawiły, że trwałość paneli znacząco się wydłużyła,
sprawdzona technologia – dopracowywana przez lata,
prosta, klasyczna forma pasuje do różnych stylów w budownictwie i architekturze – zarówno tradycyjnych projektów (również zabytkowych lub na takie stylizowanych), jak i nowoczesnych obiektów,
dodatkowe wzmocnienie – rąbek stojący i przetłoczenia na blasze to nie tylko dekoracja – zapewniają one również usztywnienie dachu, 
szeroki wybór powłok w bogatej kolorystyce i zróżnicowanych strukturach. 
Alex PRO i Oskar PRO, czyli nowa odsłona tradycyjnego dachu na rąbek stojący
W naszej ofercie znajdują się dwa warianty produktów z linii PRO panel dachowy:
Alex PRO to panel o szerokości całkowitej 310 mm, szerokość krycia rzeczywistego to 272 mm. Dostępny w szerokiej gamie kolorów z palety RAL – m.in. odcienie czerni, brązów i szarości (RAL 9005, RAL 8019, RAL 7016). Model o nowoczesnej linii i formie pasuje do budynków nowoczesnych i klasycznych.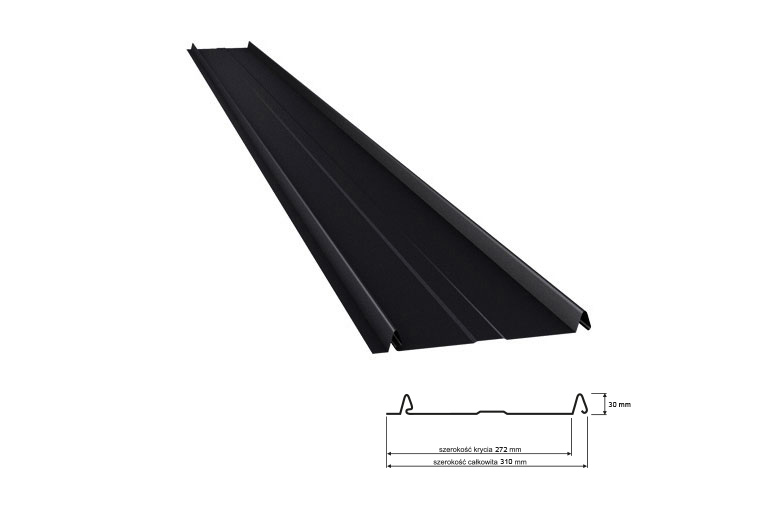 Oskar PRO to panel o szerokości całkowitej 518 mm, szerokość krycia rzeczywistego to 480 mm. Podobnie jak Alex PRO, również Oskar PRO dostępny jest w szerokiej gamie kolorów z palety RAL – m.in. wymienione na stronie przykłady, czyli: RAL 9005, RAL 8019, RAL 8017 oraz RAL 7016. Model pasuje zarówno do tradycyjnych i minimalistycznych projektów, jak i nowoczesnego budownictwa.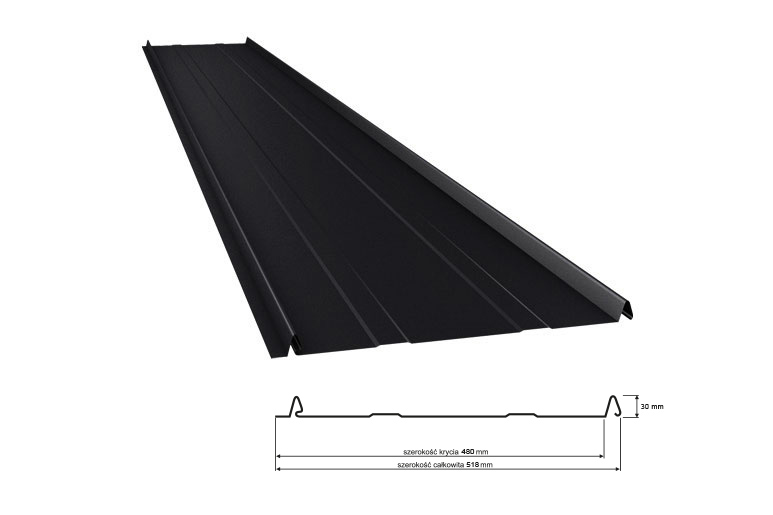 Poza panelami dachowymi, na rynku dostępne są również inne, alternatywne metody krycia dachu, takie jak blachodachówka czy blacha trapezowa. W wyborze i dopasowaniu materiału do indywidualnych potrzeb pomogą nasi konsultanci w punktach sprzedażowych.