Podczas wyboru pokrycia dachowego ze stali podejmuje się kilka istotnych decyzji. O ile kwestie takie jak rodzaj pokrycia, kształt czy kolor są związane wyłącznie z preferencjami inwestora, o tyle w przypadku powłok  zdecydowanie potrzebna jest już fachowa wiedza.
Oczywiście, powłoki również są związane z estetykę. Jedne z nich są bowiem dostępne wyłącznie w matowych, a inne w błyszczących wykończeniach. Jednak w głównej mierze rodzaj powłoki odpowiada za kwestie natury technicznej, jak choćby trwałość czy odporność na uszkodzenia.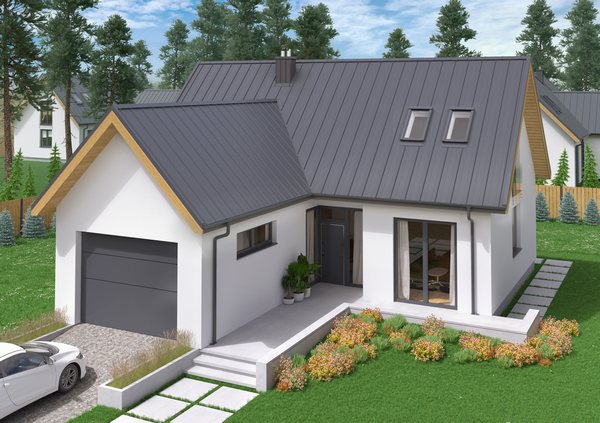 Powłoki Regamet PRO
Oferta Regamet przeszła ostatnio gruntowne zmiany. Najważniejszą z nich było wprowadzenie podziału produktów na dwie odrębne kolekcje, Regamet PRO i Regamet CLASSIC. Wszystkie pokrycia dachowe oferowane w ramach kolekcji Regamet PRO dostępne są w trzech ekskluzywnych, trwałych i eleganckich powłokach PRO, wykonanych ze stali najwyższej jakości. Czym charakteryzuje się każda z nich? Czym się od siebie różnią? Dlaczego warto zwrócić na nie uwagę?
Pierwszą z powłok PRO jest PURTEXT, która powstała w efekcie współpracy z amerykańskim koncernem U.S. Steel. Jest najgrubszą, a przy tym elastyczną powłoką charakteryzującą się eleganckim, matowym wykończeniem i najdłuższą gwarancją. To, co dla niej charakterystyczne, to zastosowaniu ultragrubej 50 μm warstwy lakieru poliuretanowego. Dzięki temu zapewnia pokryciu wyjątkową trwałość. Posiada także podwyższoną odporność na zarysowania i uszkodzenia mechaniczne. Chroni również dach przed szkodliwym działaniem promieniowania UV (RUV4) oraz innymi czynnikami atmosferycznymi. Decydując się na tę powłokę, inwestor może mieć pewność, że pokrycie będzie dobrze chronione przed korozją (RC5) i odbarwieniami. O czym również warto wspomnieć przy tej powłoce, to wysoka elastyczność oraz piękne, matowe wykończenie.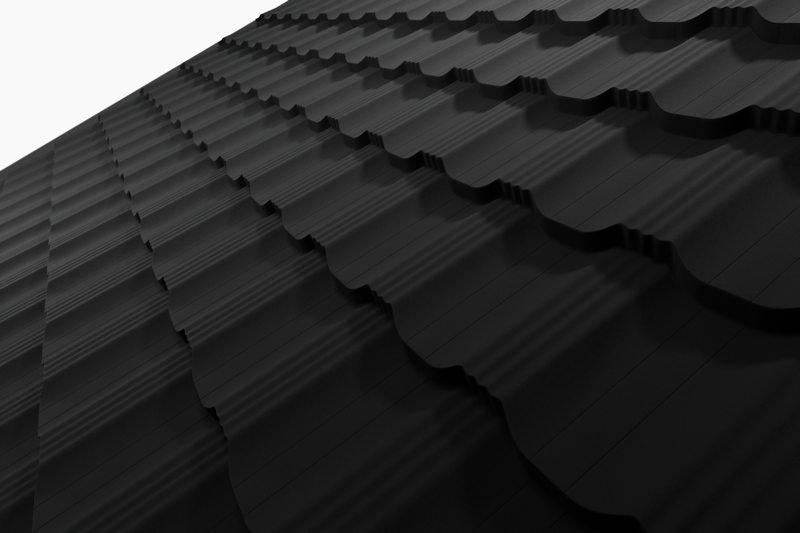 Kolejna powłoka PRO, EXELENT, łączy w sobie wysoką trwałość z ekskluzywnym wyglądem. W jej przypadku stosowany jest innowacyjny lakier o grubości 40 μm zapewniający dachowi wysoką odporność na uszkodzenia, przy jednoczesnej łatwości obróbki. Powłoka jest zaprojektowana tak, aby współczynniki, takie jak trwałość koloru, odporność na zarysowania, korozję (RC4) i promieniowanie UV (RUV4) były jak najlepsze. Trzeba również wspomnieć, że pokrycie dachowe z tą powłoką charakteryzuje się imponującym blaskiem.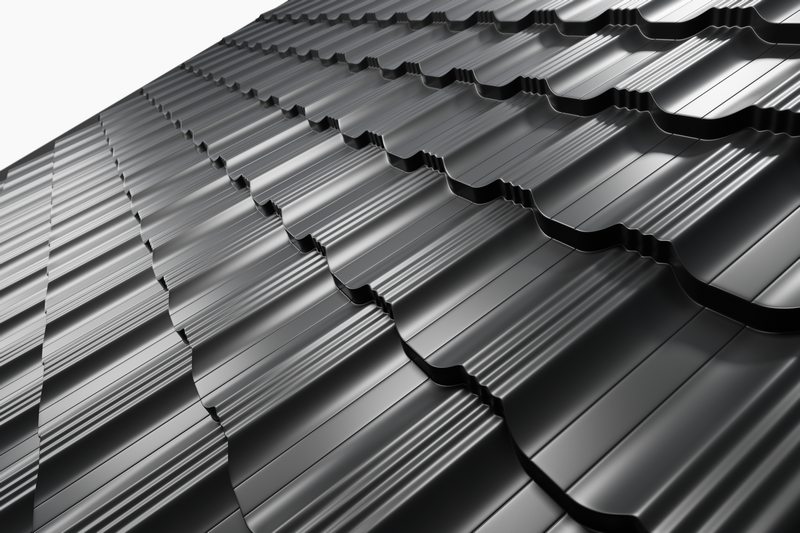 Ostatnia z powłok PRO nosi nazwę MAT STRONG 300. Zapewnia ona pokryciu ekstremalną sztywność oraz stylową, matową estetykę. Najważniejszą zaletą profili wykańczanych tą powłoką jest ich profilowanie ze stali konstrukcyjnej S250GD, co zapewnia ekstremalną sztywność. Dodatkowo rdzeń jest zabezpieczony cynkiem (300 g/m²), a następnie lakierem dekoracyjnym, co podnosi odporność pokrycia na uszkodzenia i korozję. Całość pokrywana jest poliestrową warstwą lakierniczą o grubości 35 μm, która nadaje dodatkową trwałość i matowy wygląd powierzchni. Powłoka MAT STRONG 300 to gwarancja stabilności koloru i stylowej estetyki.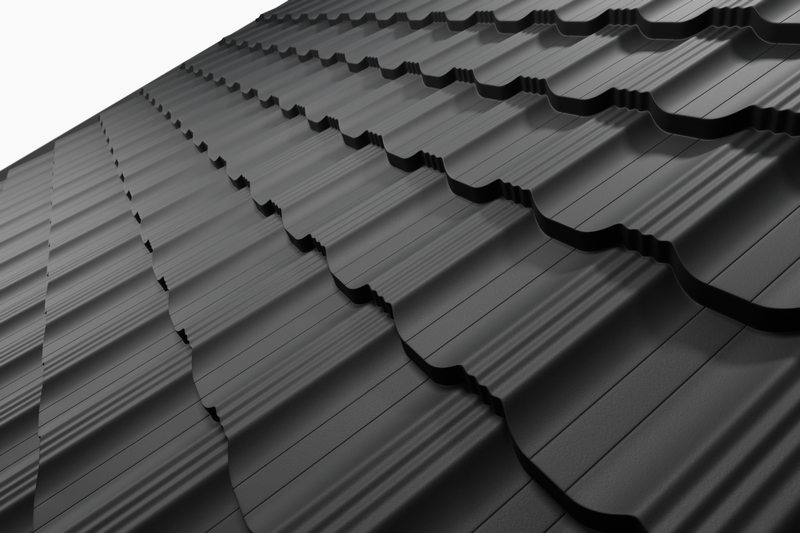 Opisane powłoki dostępne są w przypadku wszystkich pokryć z oferty Regamet PRO. Są to blachodachówki dwumodułowe (Petra PRO, Mona PRO i Liwia PRO) i na wymiar (Roma PRO), a także panele dachowe (Alex PRO i Oskar PRO).
Powłoki Regamet CLASSIC
To druga grupa powłok dostępnych obecnie w ofercie Regamet. Wszystkie pokrycia dachowe w tej linii wykonywane są ze stali wysokiej jakości i wykańczane powłokami ochronnymi. W tej grupie produktów oferowane są blachodachówki dwumodułowe i na wymiar, panele dachowe oraz blachy trapezowe. Są odporne na uszkodzenia mechaniczne, mają podwyższone właściwości antykorozyjne, a przy tym przez wiele lat bardzo dobrze wyglądają. Powłoki CLASSIC dostępne w ofercie Regamet to: GRANITE® QUARTZ, Granite® HDX, , GRANITE® Mat, Mat, Połysk i Alucynk.
Powłoka GRANITE® QUARTZ jest kwarcowa, elastyczna i odporna. Ma wyrazistą, matową powierzchnię i fakturę minerału o różnorodnych fasetach, dzięki którym wykończenie rodzi skojarzenia z pięknym kryształem. Tak jak od płaszczyzn kryształu, światło odbija się od powierzchni blachy w sposób nieregularny, ożywiając jej teksturę. Posiada twardą, strukturalną powierzchnię, która zapewnia większą odporność na zarysowania, dzięki powłoce organicznej o grubości 45 µm. Doskonale nadaje się do formowania blachodachówki i blachy trapezowej oraz paneli dachowych.
Granite® HDX to powłoka poliuretanowa o grubości 55 μm z domieszką granulek poliamidu o ziarnistej, lekko chropowatej strukturze. Posiada większą odporność na uszkodzenia mechaniczne, a użyta do produkcji blacha podnosi odporność na korozję. Blachy z powłoką Granite® HDX są doskonałym rozwiązaniem przeznaczonym do stosowania w środowiskach agresywnych i wymagających. Dzięki swoim właściwościom pokrycia dachowe wykonane z blachy z powłoką Granite® HDX są idealnym rozwiązaniem do zastosowania zarówno na budynkach jednorodzinnych, jak i obiektach przemysłowych.
Mat jest powłoką prawie bez połysku, bywa również określana jako "mat gruboziarnisty". Jej cechą wyróżniającą jest matowe, strukturalne wykończenie. Blacha z tą powłoką wyróżnia się estetyką, wytrzymałością i trwałością koloru, dzięki czemu jest idealnym rozwiązaniem do zastosowania we współczesnym budownictwie mieszkaniowym i przemysłowym.
Granite® Deep Mat to powłoka produkowana ze stali wytwarzanej przez hutę ArcelorMittal. Największy producent stali na świecie zaświadcza o jej jakości, zapewniając jej przedłużoną, 15-letnią gwarancję. Charakteryzuje się wyższą wytrzymałością na warunki atmosferyczne, a także walorami estetycznymi podobnymi do powłoki Mat.
Połysk jest najstarszym i najbardziej rozpowszechnionym rodzajem powłoki organicznej wśród blaszanych pokryć dachowych. Spełnia rolę ochronną przed szkodliwym działaniem czynników zewnętrznych, a zarazem nadaje pokryciu dachowemu estetyczną barwę. Wygląd powłoki charakteryzuje się gładką, błyszczącą jednolitą powierzchnią. Dostępna jest w szerokiej gamie kolorystycznej, zgodnie z paletą kolorów RAL i jest materiałem o bardzo szerokich zastosowaniach.
Alucynk jest natomiast wyjątkową powłoką o srebrzystym wyglądzie. Trwałość blachy zależy od grubości warstwy aluminiowo-cynkowej oraz od tego, czy jest ona dodatkowo pokryta tzw. powłoką SPT. W swojej ofercie Regamet posiada blachy z warstwą alucynku o gramaturze 150 g/m², 185 g/m² oraz 185 g/m² i SPT.
Zróżnicowanie opisanych powłok jest bardzo duże. W różnych konfiguracjach dostępne są w przypadku wszystkich pokryć dachowych dostępnych w kolekcji Regamet CLASSIC. Wszystkie je można znaleźć i dowiedzieć się o nich więcej przy opisach poszczególnych produktów w tym miejscu.