Panele dachowe – pokrycie nieprzemijająco modne
Tradycyjne blachy na rąbek stojący należą do najstarszych technologii stosowanych w budownictwie. Przez lata pokrywały połacie dachowe zabytków i obiektów sakralnych. W obecnych czasach przeżywają swój renesans. Ze względu na prosty, płaski kształt, są bardzo modne i wiodą prym w nowoczesnej, minimalistycznej architekturze. Nawiązują także do dawnego budownictwa, dlatego idealnie pasują również do klasycznych inwestycji.
Panele dachowe na rąbek stojący wywodzą się z dawnych lat. Budynki pokrywano wtedy po prostu pasami blachy płaskiej, której pionowe brzegi dekarz nakładał na siebie i zaginał tak, aby je szczelnie ze sobą połączyć. W ten sposób uzyskiwano charakterystyczne rąbki stojące.
Obecnie podobny efekt wizualny można otrzymać dzięki panelom dachowym. Są one jednak dużo bardziej zaawansowane technologicznie niż kiedyś. Panele dachowe produkowane są w rożnych szerokościach. W ofercie Regament dostępne są w szerszej wersji  518 mm oraz węższej, która wynosi 310 mm. Ich długość jest następnie docinana już na wymiar konkretnego dachu. Rąbki są specjalistycznie profilowane jeszcze podczas produkcji, dzięki czemu tego typu pokrycie dachowe jest bardzo szczelne, a jego montaż łatwy.
Nowoczesna forma
Panele dachowe nawiązujące stylistyką do pokryć na rąbek stojący są obecnie bardzo modne i często wykorzystuje się je na modernistycznych budynkach. Dzięki minimalistycznej płaskiej formie sprawdzają się przykładowo jako pokrycie prostych, dwuspadowych dachów bezokapowych, którym nadają nowoczesnego charakteru. Panele dachowe mogą być również zastosowane jako przedłużenie tego typu dachu i położone na części elewacji budynku. Tego typu pokrycie bardzo często montowane jest również na dachach płaskich o małym kącie nachylenia. Budynki z taką konstrukcją dachową stanowią kolejny architektoniczny ukłon w kierunku tak modnego w ostatnich latach minimalizmu. W tym wypadku panele dachowe podkreślają innowacyjny design.
Klasyczny styl
Panele dachowe to skromny, ale szykowny i ponadczasowy wybór, odpowiedni również dla bardziej klasycznych stylów architektonicznych. To dlatego pasują również jako element wykończeniowy restaurowanych, zabytkowych budynków. Poza tym stanowią piękne zwieńczenie dla nowopowstających eleganckich willi.
Nie tylko moda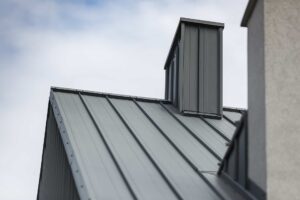 Panele dachowe cenione są nie tylko za to, że atrakcyjnie prezentują się na domach w różnych stylach. Ważne są także aspekty techniczne tego typu pokrycia.  Nowoczesne panele dachowe są produkowane w taki sposób, aby ich łączenia były bardzo szczelne (co jest szczególnie ważne w przypadku dachów jednospadowych o minimalnym nachyleniu). Czasami, tak ja w przypadku modeli firmy Regamet, mają podłużne niskie przetłoczenia, które dodatkowo wzmacniają stabilność długich arkuszy. Dzięki fabrycznym łączeniom są łatwe w montażu.
Poza tym dwa wzory paneli dachowych Regamet wykonywane są z wyselekcjonowanej, wysokiej jakości blachy. Dostępne są również w wersjach zabezpieczonych jedną z trzech unikatowych powłok ochronnych o wysokich parametrach technicznych i estetyce.
Wykorzystanie innowacyjnej warstwy lakierniczej zapewnia im jeszcze lepszą odporność na uszkodzenia oraz korozję. Panele dachowe wykonane w powłoce PURTEXT, EXELENT lub MAT STRONG 300 charakteryzuje również wyższa trwałość koloru oraz ekskluzywne, matowe lub błyszczące wykończenie.