Odpowiednio wykonana obróbka komina pozwoli zabezpieczyć budynek przed wilgocią, a tym samym przekłada się na oszczędności dla inwestora. Liczą się nie tylko najwyższej jakości materiały, ale także precyzja wykonania. Jak powinna przebiegać obróbka dekarska komina, żeby efekty były estetyczne, a wszelkie nieszczelności wyeliminowane?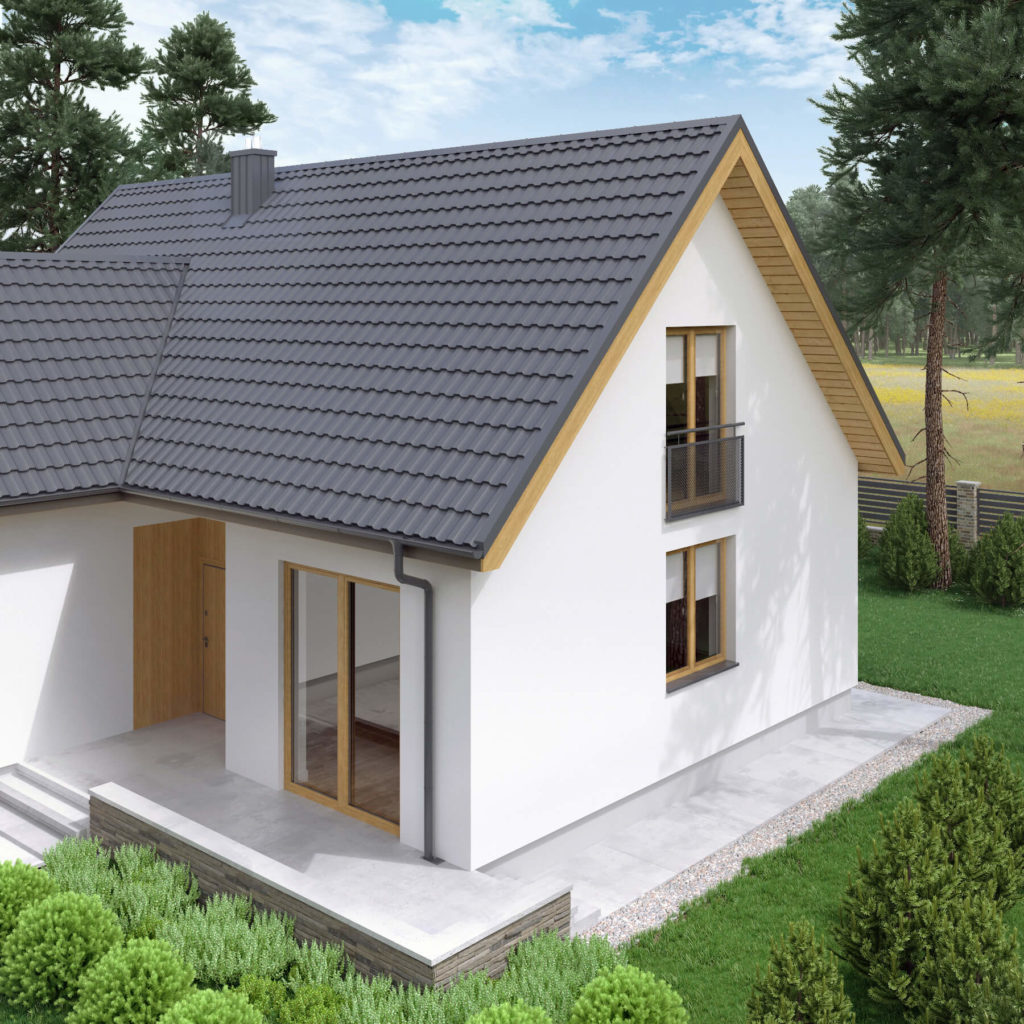 Jak wykonać obróbkę komina?
Pokrycie stalowe pozwala na wykonanie trwałego i odpornego na uszkodzenia dachu, który jest lżejszy niż tradycyjne dachówki ceramiczne. Inwestorzy mogą wybierać spośród różnych rodzajów blachodachówek – zdecydować się na materiały o nowoczesnym wzornictwie i charakterystycznym szerokim przetłoczeniu (np. Perta PRO) lub wybrać eleganckie pokrycie z serii Classic, np. Mona duo. Bardzo istotna jest również prawidłowa obróbka komina – to bez wątpienia jeden z najtrudniejszych etapów prac dekarskich. Wykonana w sposób zgodny ze sztuką budowlaną pozwala uzyskać szczelne połączenie, które chroni budynek przed negatywnym wpływem czynników zewnętrznych. Komin musi być obrobiony w ten sposób, żeby łączenie było trwałe, ale jednocześnie elastyczne i pozwalało na swobodną pracę wszystkich elementów bez ryzyka ich uszkodzenia. Jak powinna przebiegać obróbka dekarska komina?
Obróbka – krok po kroku
Blachodachówka i membrana wokół komina
Prace rozpoczynamy od prawidłowego montażu blachodachówki i wyłożenia arkuszy po obu stronach komina tak, aby szczelina między blachodachówką, a kominem wynosiła ok. 50 mm.
Następnie dopasowujemy membranę wstępnego krycia – membrana powinna wystawać poza obrys blachodachówki. Dla ułatwienia pracy membranę można przymocować taśmą klejącą. Trzeba pamiętać, że jej ostateczne położenie zostanie ustalone przez zamontowane obróbki.
Obróbka musi przebiegać zgodnie z kierunkiem spływania wody, dlatego membranę wywijamy najpierw przed kominem, następnie po bokach, a na końcu z tyłu. Prawidłowo ułożona i zamocowana membrana zapewnia dodatkową szczelność.
Taśma kominowa i montaż obróbek
Za kominem wykonujemy twardy podkład, na przykład z deski lub płyty, na którym zostanie osadzona tylna obróbka. Następnie ustalamy wymiary obróbek bocznych i przygotowujemy zakładki do połączenia ich na felc z następnymi obróbkami.
Bardzo ważne jest, aby obróbka nachodziła za falę blachodachówki oraz na komin z każdej strony (min. 15 cm ponad pokrycie dachowe).
Teraz do arkuszy blachodachówki przyklejamy taśmę kominową, po czym dopasowujemy przygotowane obróbki do komina. Montaż obróbek zaczynamy od przodu komina, następnie układamy boki, a w trzeciej kolejności tył komina.
Niezwykle ważne jest właściwe przygotowanie tylnej obróbki. Po zamontowaniu obróbek bocznych wyznaczamy miejsca cięcia i gięcia blachy. Według tego wzoru szczypcami oraz nożycami do cięcia blachy formujemy ostateczny kształt obróbki i dopasowujemy ją do tylnej ściany komina. Taka kolejność montowania elementów zapewni prawidłowe odprowadzenie wody wokół komina. Obróbki mocujemy do blachodachówki wkrętami.
Uszczelnienie silikonem dekarskim
Pamiętajmy o dokładnym łączeniu wszystkich komponentów – zapewni to dobrą szczelność. Miejsca narażone na przeciekanie uszczelniamy silikonem dekarskim. Materiał ten cechuje się dużą elastycznością, wytrzymuje wilgoć oraz promieniowanie ultrafioletowe.
WAŻNE! Bardzo istotne jest dokładne wykonanie tylnej części komina, ponieważ jest ona szczególnie narażona na negatywne działanie czynników atmosferycznych – wody opadowej, śniegu czy zanieczyszczeń. Można w tym miejscu zastosować wyższą obróbkę (lub zastosować kozubek).