Czy odcień blachodachówek  ma realny wpływ na ostateczny charakter i styl domu? Jeżeli tak, to jaki kolor dachu pasować będzie do budynków w stylu rustykalnym, a jaki do dworkowej, klasycznej czy współczesnej architektury? Jaki kolor elewacji wybrać do brązowego dachu, a jaki do grafitowego? Na powyższe pytania odpowiadamy w dzisiejszym artykule.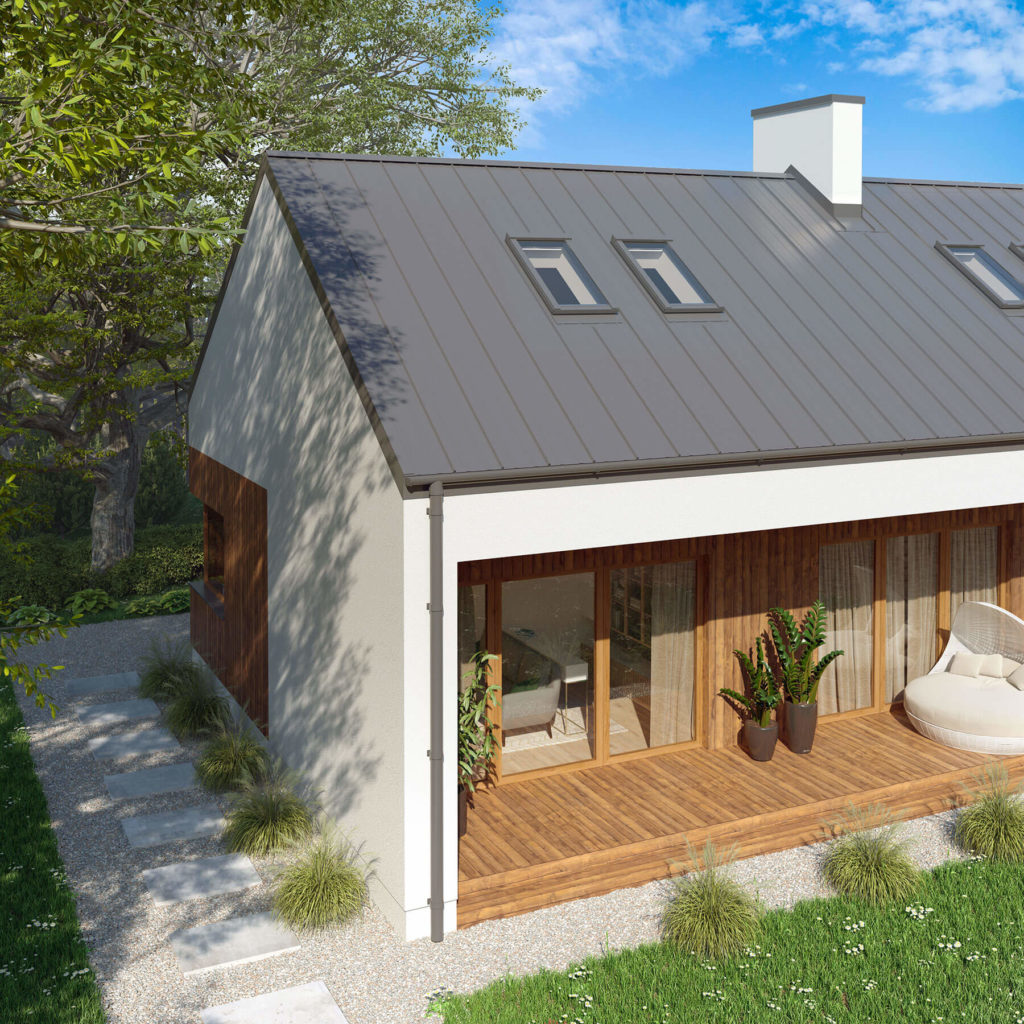 Jaki kolor dachu wybrać w zależności od stylu domu?
Na charakter budynku wpływa nie tylko jego fasada, ale również dach.  Pytanie brzmi jednak, jakie jego elementy mają realny wpływ na styl domu? Ogromne znaczenie ma zarówno materiał, z jakiego wykonane zostało pokrycie (stal, ceramika, beton), kształt blachodachówki, dachówki, wykończenie (matowe lub błyszczące ), jak i kolor. Przy ostatnim z elementów pojawia się jednak najwięcej pytań. Na jaki odcień dachu się zdecydować, w zależności od stylistyki nieruchomości?
W posiadłościach wpisujących się w estetykę skandynawską, na dachu wykorzystuje się płaskie blachodachówki w grafitowym lub popielatym kolorze (np. Liwia Pro). 
W budynkach zaaranżowanych na styl współczesny lub minimalistyczny bardzo często pojawiają się czarne, stalowe panele dachowe o szerokim rozstawie rąbków, takie jak np. Oskar Pro. 
W domach w stylu rustykalnym można  spotkać  natomiast  blachodachówki w brązowych  i zielonych  tonacjach. Z kolei wille zaaranżowane na styl śródziemnomorski pokryte są z reguły blachodachówkami lub dachówkami w ceglastym odcieniu. 
Jak dobrać kolor dachu do elewacji?
Barwę fasady zdecydowanie łatwiej zmienić niż pokrycie dachowe. Dlatego to właśnie blachodachówki czy panele dachowe warto potraktować jako punkt wyjścia, do stworzenia spójnej kolorystycznie koncepcji.
Jaki kolor elewacji do brązowego dachu?
Blachodachówki w odcieniu brązu dobrze komponować się będą z fasadą w odcieniu taupe lub beżowym. To kolorystyczne zestawienie często wykorzystywane jest w willach w stylu Hamptons. 
Rustykalny charakter budynku zapewnią natomiast blachodachówki w ciemnym brązowym  odcieniu zestawione z kamienną fasadą w żółtobrązowej tonacji.Z kolei blachodachówki w odcieniu ceglastym i klasycznym stylu (np. Mona Duo) zestawione z beżową lub białą elewacją, z pewnością wpiszą się w styl dworkowy.
Jaki kolor elewacji do czarnego dachu?
W nowoczesnych, minimalistycznych aranżacjach wykorzystuje się przede wszystkim monochromatyczną paletę barw. Dlatego dom pokryty czarnymi panelami dachowych  Oskar czy Alex warto pomalować na biało. Takie zestawienie bardzo dobrze sprawdzi się na łonie natury, ponieważ tkanka budynku będzie pięknie odcinać się na tle zieleni.
Do takiej aranżacji warto włączyć czarne ramy okienne i drewniane akcenty np. wykonane z cedru.
Beże i złamane biele tynku także pasować będą do czarnego dachu np. pokrytego blachodachówkami dwumodułowymi Mona PRO. Z uwagi na wyważoną paletę barw oraz charakterystyczny wygląd blachodachówek (wysokie przetłoczenie uskoku z pojedynczym rowkiem), takie zestawienie spotykane jest często w domach w stylu klasycznym.
Czarna blachodachówka (np. Olimpia) pasować będzie również do kamiennej elewacji w piaskowym lub szarym odcieniu. Taka kompozycja nada domowi klimatu podmiejskiej, eleganckiej rezydencji w stylu angielskim.
Jaki kolor elewacji do grafitowego dachu?
Grafitowe panele dachowe, podobnie jak pokrycie w czarnym kolorze, pasować będą do elewacji w ciemnej, głębokiej barwie. Monochromatyczna, wyrazista kompozycja nada bryle współczesnego charakteru.Pokrycie w szaroczarnym odcieniu, np. z wykorzystaniem blachodachówek Petra DUO, dobrze komponuje się również z kolorem popielatym, tworząc bardzo współczesne zestawienie.