Blachodachówki są pokryciem dachowym o bardzo wielu walorach. Dlatego coraz chętniej wybierane są przez inwestorów. Co istotne, rozwiązanie to cechują zalety ważne nie tylko z punktu widzenia nabywcy docelowego, ale także z perspektywy firm dekarskich.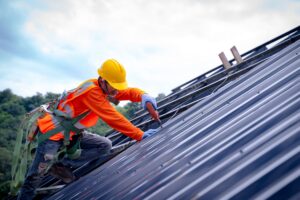 Łatwość transportu
To zaleta tycząca się zwłaszcza blachodachówki dwumodułowej. Jej niewielki rozmiar (ok. 1,2 m szerokości na 72 cm długości, co równa się powierzchni ok. 9 tradycyjnych dachówek) i waga powodują, że do transportu na teren budowy wystarczy zwyczajna paleta typu EURO, którą bez trudu można przewieźć nawet niewielkim samochodem dostawczym.
Również rozładunek i transport na dach elementów tego typu pokrycia jest rzeczą prostą, choć jednocześnie trzeba przy tym uważać, aby nie uszkodzić poszczególnych modułów. Zarysowane przez nieuwagę powłoki mogą na znacznie obniżyć wytrzymałość połaci dachu, a powstałe w ten sposób uszkodzenia będą miały wpływ na gwarancję produktu.
Łatwość montażu
To zarówno najbardziej oczywista, jak i najważniejsza zaleta dla każdej firmy dekarskiej. Blachodachówka jest materiałem łatwym w montażu, co jest jej sporą przewagą nad pokryciami tradycyjnymi, takimi jak dachówki ceramiczne czy betonowe. Przewaga produktu z blachy wynika stąd, że wykonuje się go w większych formatach (modułach lub arkuszach), w związku z czym nie ma potrzeby dopasowywania do siebie pojedynczych elementów. To znacznie ułatwia i przyśpiesza prace dekarskie.
Mała waga
Blachodachówki są również znacznie lżejsze od dachówek tradycyjnych. Z tego powodu montaż na konstrukcji dachu przebiega o wiele szybciej, niż ma to miejsce w przypadku pojedynczych, ciężkich elementów dachówki tradycyjnej. Ponadto fakt, że waga blachodachówki jest niewielka (a przy tym jej powierzchnia większa od innych wspomnianych rozwiązań), niesie ze sobą jeszcze jedną korzyść.
Ciężar pokrycia narzuca bowiem rodzaj konstrukcji więźby dachowej. Cięższe wymagają bardziej wytrzymałej na obciążenia, a co za tym idzie, również droższej więźby. Pokrycie z blachy pozwala natomiast na wykonanie mniej masywnej konstrukcji. Jest to zatem etap mniej kosztowny dla inwestora, a dla samego wykonawcy po prostu prostszy i szybszy.
Możliwość montażu na każdym dachu
Kolejną ważną cechą blachodachówki z perspektywy dekarza jest to, jak łatwo i szybko można dopasować ją praktycznie do każdego dachu. Począwszy od prostych dachów dwuspadowych, na których montaż blachy ciętej na wymiar jest zdecydowanie najszybszym i najprostszym z dostępnych rozwiązań, skończywszy na nawet najbardziej skomplikowanych konstrukcyjnie dachach.
Blachodachówkę w formie dwumodułowych arkuszy z łatwością można zamontować na więźbie z wieloma załamaniami, dużą liczbą lukarn i koszy rynnowych. Wynika to z faktu, że blacha jest materiałem wyjątkowo prostym w obróbce, a przy wariancie dwumodułowym znacznie zmniejsza się straty materiału. To ważne zwłaszcza w przypadku najbardziej złożonych konstrukcji dachowych.
Kwestie związane z transportem i montażem blachodachówek na więźbach dachowych dla doświadczonego fachowca nie powinny stanowić problemu. Z kolei szczegółowy instruktaż prac przygotowawczych więźby pod tego typu pokrycie został opisany w tym wpisie.